Price :$29.95

Shipping Info:
1. Registration Code will be sent by Email
2. Download Insurance Service (Optional)
3. Backup CD(Optional)
4. 100% Purchase Secure.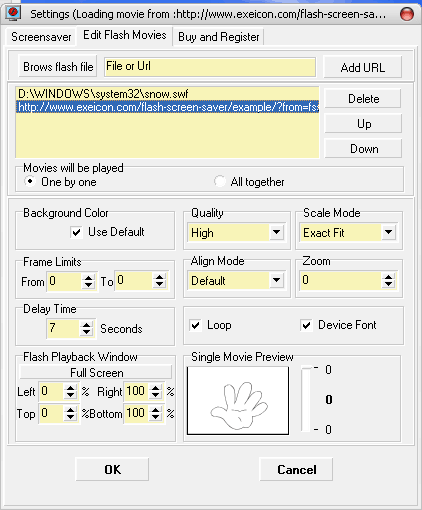 Flash Screen Saver plays flash movies as screensaver. 
Flash Screen Saver is a screensaver which can play flash movies. All the flash movies you like can be added to its play-list. And it allows you to set all these movies' options such as background colors, qualities and so on. These flash movies can be played one by one or together. Certainly it is not only a flash player but also a screensaver. All the screensaver options can also be modified.
You will have your own wonderful screen saver. There are so many interesting flash movie on net. Save them and add them to the Flash Screen Saver's play-list. And your own screen saver is created so easily and quickly.
Standard Features:

- Any flash movie you liked can be added to the play-list.
- Flash movie or flash url.
- Standard windows screensaver.
- Preview monitor.
- Flash movie's options can be modified.
- Play 30 movies at one time.
- 30 movies can be played one by one.
- Specify every movies' delay time.
- Specify every movies' start frame and end frame.
- Mute mode.
---
Buy Flash Screen Saver Only $29.95

Download the trial version of Flash Screen Saver or do a flash movie file now.
Size:0.64 MB. Download and unzip the packaged installer with password '

abc

'.


Flash Screen Saver free download, Flash Screen Saver offical site, Screen saver,flash 2 screensaver, flash2scr, play flash, screensaver play flash, flash to screen saver, standard windows screensaver to play flash movie, flash movie play, swf 2 scr, swf2scr, screensaver play flash
Comments: